We are devoted to creating a safe, enriching and caring community. Our team of very experienced summer camp and education professionals support our activity specialists and counselors.
Leadership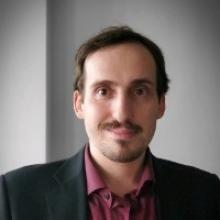 Andrey Chichagov                                    
  Camp Director
  212-766-1104 ext. 250
---

  Gabi Ajami
  Deputy Director of Elementary Programs
  347-756-5634
Team Leaders
Each group in camp is assigned to one of our Team Leaders/Division Supervisors, most of whom have worked with us for over 10 years! Our Team Leaders have a wealth of experience working in schools and summer camps as teachers and administrators. This added level of supervision ensures that our counselors are coached to meet the highest professional standards. It is typical for 100% of our team leaders to return each season.

Activity Specialists and Counselors
We have experienced teachers and counselors working with the children at our summer camps. More than 80% of our activity specialists and counselors return each season. When other summer camps hear about our staff return rates, they're simply speechless. Building the type of community that both campers and staff want to return to each summer is vitally important to us.
Supervision Ratio
We believe the most important thing at camp is proper supervision, and lots of it. We are proud of the fact that our overall camper to staff ratio is 4 to 1 at the Downtown Day Camp.